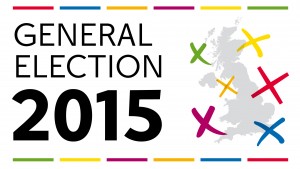 Tomorrow Britain goes to the polls in an election that many have dubbed the most unpredictable in a generation. The rise of the SNP, UKIP and Green Party has undeniably altered the political landscape, and as witnessed by the TV election debates, the three major parties no longer hold the monopoly they once had. Certainly no one expects a clear cut result, with multiple alliances mooted as potential outcomes.  As such, the vote of the individual has never been more important. Voting in a general election is a chance to enact real change, have one's voice heard, and to take an active role in this country's democracy. I believe it is particularly important for women to exercise this right, a right, hard fought and for a long time, denied from us.
Perhaps the most exciting piece of pre-election theatre so far has been Russell Brand's controversial interview of Ed Miliband, and its somewhat unprecedented result. Self-proclaimed Mr Don't Vote had a last minute turn around, instead urging the youth to vote after all, abandoning his previous position that abstention from voting was a viable, and indeed preferable, mode of political resistance. Brand, having come round to right thinking at last, brings home the fundamental point, that your vote does matter, and that voting is the single most effective way of enacting political change.
Many of you may have already cast postal votes in your home constituencies, but those who haven't, can, and should, take the opportunity to vote here in Oxford.  The majority of Oxford colleges fall under the Oxford East constituency, a semi-marginal Labour seat, which last election was closely contested with the Lib Dems.  The candidates are as follows: Melanie Magee (Conservative), Andrew Smith (Labour), Alasdair Murray (Liberal Democrat), Ian Macdonald (UKIP) and Ann Duncan (Green). A recent debate, covered by the Oxford Tab, revealed that the candidates (except for the Conservatives who failed to take part), hold surprisingly similar views on a number of issues such as electoral reform and no platform policies, however, there were significant divergences on important issues such as Benefits. The full article can be found here. The Jericho colleges, however, fall under the Oxford West and Abingdon constituency, an extremely marginal seat, which in 2010 was won by the Conservatives from the Lib Dems, with a majority of under 200 votes. The candidates standing are Nicola Blackwood (Conservative), Sally Copley (Labour), Layla Moran (Liberal Democrat), Alan Harris (UKIP) and Larry Sanders (Green).
I would like to take this opportunity to thank Ella Crine, and Sam Rakestrow (with assistance from Syed Imam), for their highly informative and compelling articles on Labour and Liberal Democrat policies, respectively.  If anyone is looking for a last minute summary of the party manifestos and an overview of policy, I would highly recommend giving these articles a read, here and here. We of course extended the same opportunity to the Oxford University Conservative Association, however, unfortunately they were unable to submit a piece.
Vote! It matters.
Daniella Reichenstein
Editor-in-Chief